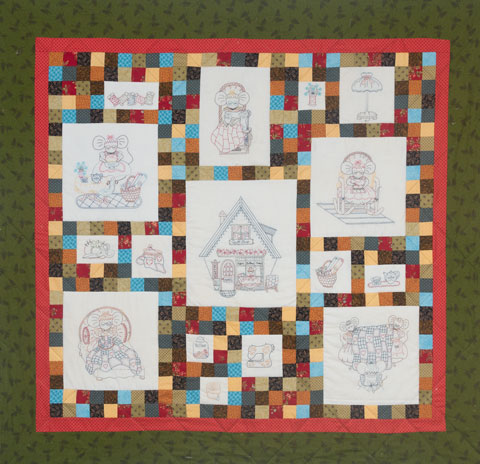 **Next Round Starting June 2021**

This is a 7 month embroidery project.

In Block One, Mousie is looking in the quilt shop window and then she goes on to make quilts, even attending a Show and Tell at her Guild. You will receive the pre-printed blocks each month but at the beginning you will also receive 5 skeins of hand dyed Cottage Garden threads which will match with the fabric you receive to join the blocks together in month 7.

You will have to use other threads which we are presuming you will have leftover from previous projects, but there is a list of optional items including extra threads. It took me a week to stitch each block so you won't have a problem with a whole month. We can also supply this as a kitset..

Month 1 $85.00 Months 2 - 7 $40 per month

You will receive all the preprinted blocks, the fabrics to finish your quilt, including the fabric for the 2" blocks, the piping fabric to go around each block, the first, second and third border fabric plus the binding and all the finishing instructions. You will also receive 5 skeins of Cottage Garden variegated thread which will determine the colours for the fabrics you will later receive.

You will need more than 5 skeins of thread to make this quilt but I am anticipating you have a collection of left over threads from other projects but here is a list of optional extras. Please make a note in special delivery when making your order, as to which optional extras you would like.

Optional items:
Another 5 skeins of Cottage Garden Variegated Threads in various colours $46.00 5 skeins of DMC in various colours $9.00 A 5" non slip embroidery hoop $21.50 Foxglove embroidery needles $6.60 Needle threader packet of three $8.50 Small Perfect Scissors - very sharp points $40.50 LED magnifying lamp $89.70 (Lynda and I use this for all embroidery - wonderful).

Actual Dimensions 52" x 50"
Brand New Item
Add to Wishlist
Back to search results