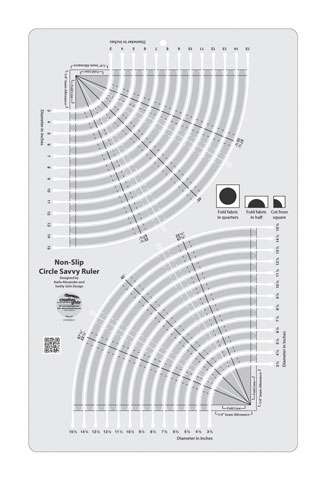 Designed by Karla Alexander, Christine Van Buskirk and Susan Emory, the Creative Grids Circle Savvy Ruler cuts circles, semi-circles, and quarter-circles from 3 to 15-1/2 inches and every 1/2 inch in between. The way this ruler was designed, it can be used in a number of techniques: fusible appliqué, piecing and turned-edge appliqué.
This ruler slides easily over the fabric until pressure is applied. Then grippers hold the fabric in place while cutting, eliminating slipping and miss-cuts!
The ruler comes with fully illustrated step by step instructions or visit YouTube for a tutorial.
https://www.youtube.com/watch?v=itnXgid6OWI
Brand New Item
Stock Status: Order Now for Delivery In 3-6 weeks
Add to Wishlist
Related Products