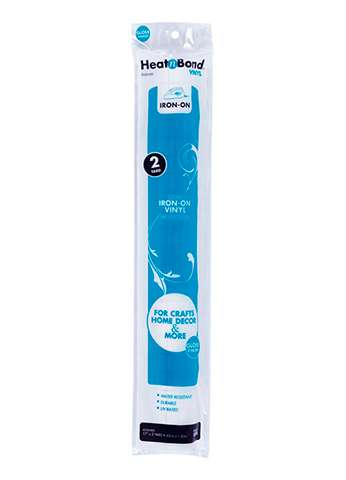 Heat n Bond Iron-on Vinyl is a flexible, water resistant coating that you iron onto the top of your fabrics to protect them. Use Iron-On Vinyl to make your own laminated fabrics and create placemats, tote bags, chair seat covers, aprons, children's art smocks and more!

Features & Benefits:
- Heat activated
- Permanent
- Sewable with regular or non-stick foot.
- Fusible only on one side
- For use on fabric or paper
- UV Resistant, Water Repellent material
- Paper liner is used to protect the vinyl during ironing.

Tips:
Pre-wash all materials (without fabric softener) you will be using prior to fusing. Pre-test adhesive on materials prior to fusing. Do not touch iron directly to the Vinyl. Always cover Vinyl with protective sheet or parchment paper before ironing. Do not iron directly to your ironing board. Wipe clean with damp cloth. If washing is a must, wash on gentle cycle and line dry. If any peeling or crinkling occurs, cover the vinyl with parchment paper and re-iron.
Brand New Item
Stock Status: Order Now for Delivery In 3-6 weeks
Add to Wishlist