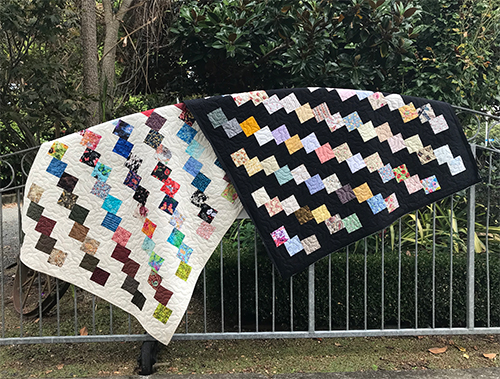 For these two quilts, I used 5" charm squares. We have heaps of those so this was a nice challenge for me over Easter to produce an easy quilt using them.

I found that in a pack of charm squares there are lights and darks so I ended up making two quilts. One I made with quilters muslin cream and the other quilters muslin black. The very light fabrics did not show up so well on the cream muslin.

I will write up a free pattern for you for this quilt. Your kit will contain two packets of charm squares (120 charms), two metres of either cream or black muslin, instructions and a colour photo.

This quilt is suitable for beginners, people making charity quilts or just a quick gift. 

You will use 72 charm squares in your quilt but you can make your quilt bigger. With 120 charms to choose from you will have fun sorting through them!

Please indicate in special instructions cream or black muslin.

Actual dimensions are Finished Quilt 50" x 50"
Brand New Item
Add to Wishlist
Back to search results