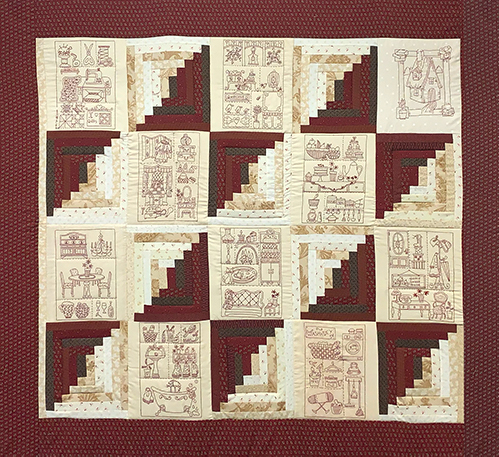 The theme is every room in your home. The sewing room which has quilts, a treadle machine, scissors, threads, pin cushions etc. The blocks are separated and the designer used a one fabric sashing but I've decided upon an elongated log cabin block using eight fabrics.

It will be $35 per month for 9 months plus shipping and this will include a box of DMC thread and 10 fat quarters for setting your embroidery blocks, plus instructions for making the setting blocks. 

You can choose the red (burgundy) I have used or you can have blue and your fat quarters will match the threads. 

The blocks are pre-printed so there is no tracing!
Brand New Item
Stock Status: No Longer Available
Add to Wishlist
Back to search results