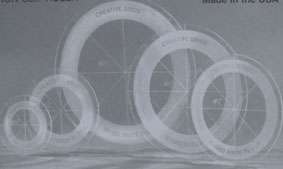 This circle set includes templates in five different sizes: 2-1/2; 3-1/2; 4-1/2; 5-1/2 and 6-1/2 inches.

Use these circles to cut perfect Yo-Yo's; appliques, or as a quilting template for marking curves and circles. Enter Code "CGRCRCL" into the YouTube seach for a YouTube Tutorial.

This tool will slide easily over the fabric until pressure is applied. Then the gripper holds the fabric in place while cutting, eliminating slipping and miss-cuts!
Brand New Item
Add to Wishlist
Related Products