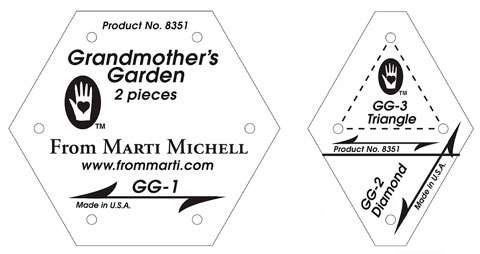 Set includes two pieces to cut three shapes.

These templates are the perfect sizes to cut 1" hexagons, 60 degree diamonds and equilateral triangles, the three shapes most frequently used in the ever-popular Grandmother's Flower Garden variations. 1-inch is the measurement of the finished side of each of the coordinating pieces. All shapes include 1/4-inch seam allowances. Whether you plan to machine piece, hand piece or English paper piece your hexagons, these templates make it easy to rotary cut the fabrics.

These pieces are also included in From Marti Michell Perfect Patchwork Template Set G. So if you already own Set G, you won't need this set.
Brand New Item
Add to Wishlist
Back to search results