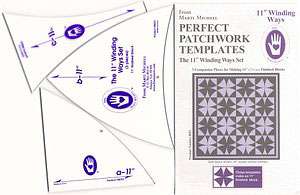 The Winding Ways block is created with overlapping circles. This block looks far more complicated than it really is, as an optical illusion is created, with circles seeming to appear from nowhere. You can accurately cut and piece these curves with ease using any of Marti's Winding Ways Template sets.

Each set includes three companion pieces for making 11" finished blocks, plus detailed instructions for making the block, from cutting the fabric to layout and then construction.

Also available for 6" and 8.5" finished blocks.
Brand New Item
Add to Wishlist
Related Products